HA-Series
Swing Beam Clicker Press
Reliable, Safe, Efficient
HA-Series Swing Beam Clicker Press
Die Cutting Applications
This popular die cutting press is suitable for use with an extensive range of narrow to medium width sheets or roll goods materials, such as textiles, plastics, rubber, foam, composites, paper and paperboard, wood, leather, cork and felt.
If you have converted part of your manufacturing space to produce needed PPE supplies, this is the die cutter that can easily cut through multiple layers of cloth or plastic for mass production of face masks and/or face shields.
Features & Benefits
Rugged cast iron frame

Two cutting bed sizes

Three steel fabricated swinging beam widths

Automatic depth of cut setting with fine-tuning potentiometer

Special selectable setting for use with small area dies; prevents over-penetration into the cutting pad

Precise cutting results ensuring reduced wear of cutting pads and dies

Excellent operator visibility

Fitted exclusively for two-hand trip operation

Low maintenance

Low static and dynamic floor load

Low noise level

Complies with OSHA regulations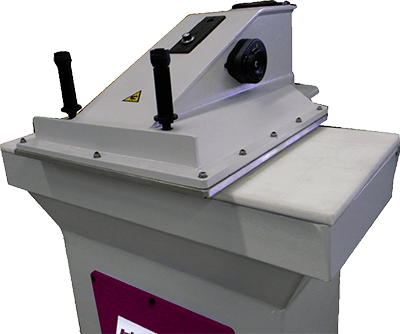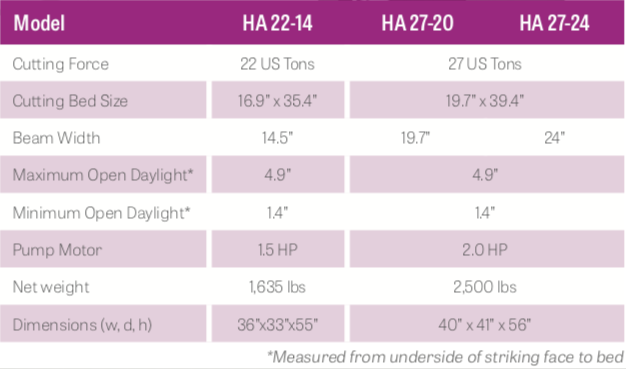 Contact a Sales Rep
Are you ready to add this die cutter to your production floor? Would you like more information on the different models and specifications of the HA-Series swing arm presses? If so, reach out to our Sales Team. One of our knowledgeable staff will be happy to answer your questions and provide you with a quote. We look forward to helping you reach your production goals!
As always, feel free to give us a call at 603-570-4090.
More Die Cutters Available
If the HA-Series is not the right fit for your manufacturing needs, we carry a full line of industrial die cutting press machines that will solve most all commercial cutting needs. From Traveling Head, Receding Head, Full Head, CNC Envelope and more. Come explore what Hudson Cutting Solutions can provide for your company.