Fortuna ES 50 Single-Scarf Skiving Machine
Applications
The Fortuna ES 50 is a single-scarf skiving machine for working widths up to 50mm. Featuring a step-less electronic drive of the feed roll, the ES 50 is ideal for shoes, leather goods and orthopedic industries.
The electronic feed guarantees continuous working process in comparison to a typical clutch, ensuring optimal quality. Production is improved with the ES 50 and operator training time is reduced.
The Fortuna ES 50 makes it possible to skive leather, imitation leather, plastics and similar materials. The infinitely variable feed speed allows for skiving with reduced waste.
Features & Benefits
Newly fashioned construction with readily adjustable machine functions
Easy handling & less spare parts needed
Work table with modified suction device & scrap box
Knife position indicator
Easy and quick adjustment of scrap ejector
User-friendly dust extraction with filter sheet
Low noise-emission and large work surface
Electronic drive of feed reduces operating costs & training times
Maximum feed speed controlled by potentiometer
Step-less electronic drive of feed roll controlled by foot pedal.
Options
Work lamp
Top cover
Lubrication device for bell-knife for laminated materials
Pneumatic scrap & dust removal system in case of fibrous materials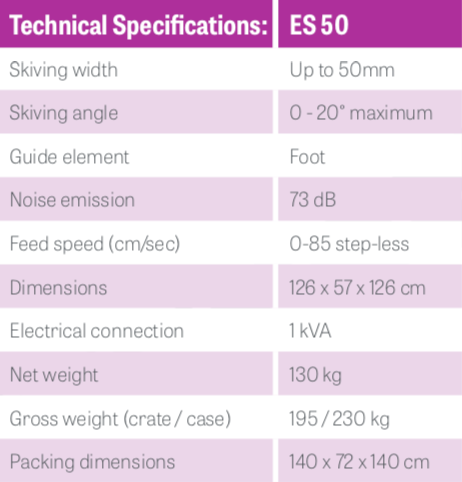 Contact a Sales Rep
Are you ready to add this single-scarf skiving machine to your production floor? Would you like more information on the specifications of the ES 50? If so, please fill out the form below and one of knowledgeable salespeople will be happy to answer your questions and provide you with a quote. We look forward to helping you reach your production goals!
As always, feel free to give us a call at (888) 210-1655.
More Skiving Machines Available
If the ES 50 Single Scarf Skiving Machine is not the right fit for your manufacturing needs, we carry a full line of industrial machines that will solve most all commercial skiving needs. Come explore what Hudson Cutting Solutions can provide for your company.