Fortuna 50 KK-S Stiffener Skiving Machine
Skiving Machine with Upper Driven Feed Roll
Applications
Shoe cap skiving machine for leather toe puffs and counters.
The maximum working width is 50 mm. Used in the shoe industry (sole leather).
The machine is designed as standing workplace.
The 50 KK-S was designed for skiving hard and heavy materials. With the upper driven feed roll a continuous sliding of the material is ensured. The step-less adjustable knife speed and the clockwise / counter-clockwise operation of the bell knife are another guarantee for an optimal cut. The feed speed is adjustable by belt pulleys.
Features & Benefits
Work table with scrap slide and scrap box
User friendly grinding dust disposal through filter cassette
Low noise emission
Electronic controlled knife speed with reversal of rotation direction
Options
Various accessories (pressure rolls, feed rolls, etc.) for different applications
Work lamp
Cover
Thickness gauge
Lubrication device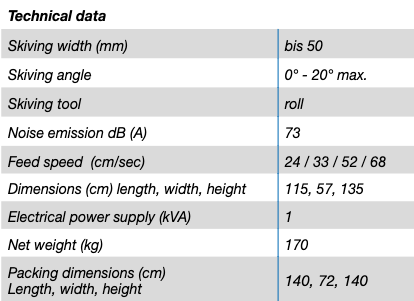 Contact a Sales Rep
Are you ready to add this stiffener skiving machine to your production floor? Would you like more information on the specifications of the Fortuna 50 KK-S? If so, please fill out the form below and one of knowledgeable salespeople will be happy to answer your questions and provide you with a quote. We look forward to helping you reach your production goals!
As always, feel free to give us a call at (888) 210-1655.
More Skiving Machines Available
If the ES 50 Single Scarf Skiving Machine is not the right fit for your manufacturing needs, we carry a full line of industrial machines that will solve most all commercial skiving needs. Come explore what Hudson Cutting Solutions can provide for your company.